Why We Serve Privately Owned Contractors & Companies
Owners intuitively know when something is off when looking at financials, cost reports, ERP information or a spreadsheet. But they need hard data to make high impact decisions.

WE SPEAK BUSINESS
As serial entrepreneurs, we know what it takes to run a company. We have done turnarounds, startups and owned multiple companies.

BOTTOM LINE
Everything in a company is to increase profits or decrease costs. Whether our clients have 400 employees or one, those two concepts were always the bottom line.

NOT CONSULTANTS
We get involved in the solution. We implement what we advise on.
OWNERS & CEO's
You have data but not the staff to massage it. When you think, I wish I knew…?", we help you answer those nagging questions through relational databases and big data analytics.
CONNECT THE DOTS
We help you find solutions that 'pipe' data from one pool of information to the next. Your business is unique so each off-the-shelf portfolio of solutions is adapted for you.
GOING BEYOND EXCEL
We create higher powered information from what you already have in Excel. We can also enhance it by incorporating relational database power (like SQL) using off-the-shelf solutions.
QUICKBOOKS MANUAL ENTRIES
We free up your staff by automating information flow into Quickbooks from payroll systems, job management software, client management software, etc…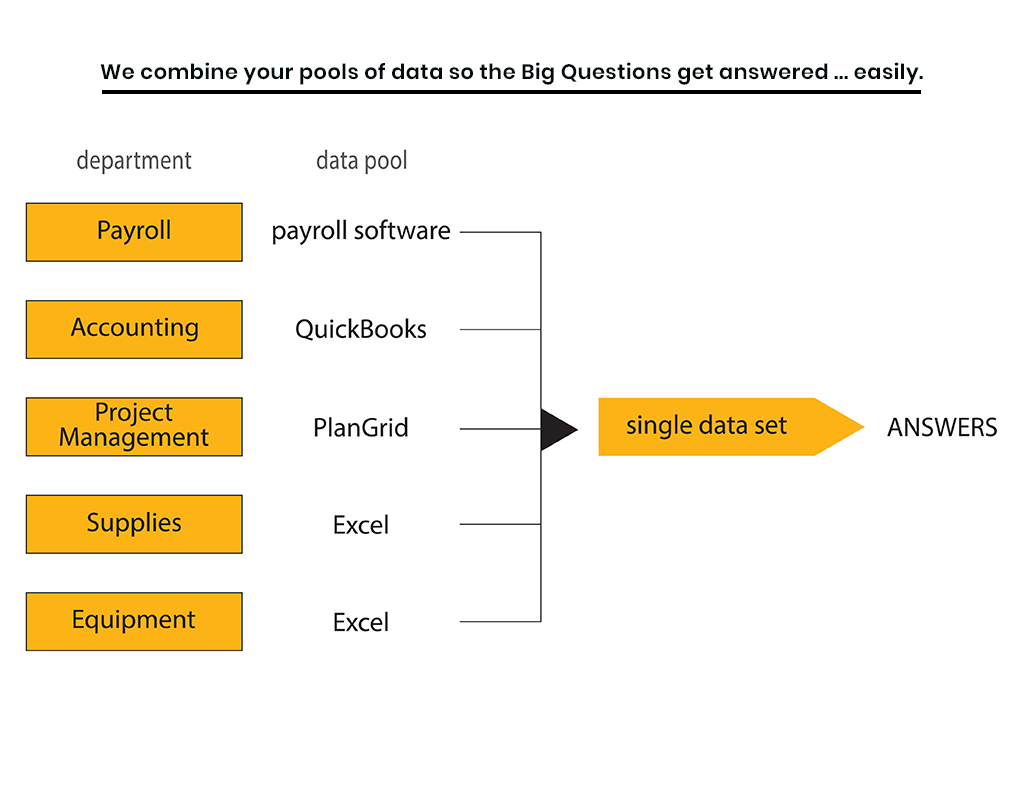 About Final Mile Analytics
THE COMPANY
Final Mile Analytics came about after solving data problems for privately owned businesses since 2006. With every turnaround, startup, and business we owned, we noticed data was not being used to its potential. When we connected pools of data, we unlocked sources of profits, costs and found solid information to base decisions on.
Within each company, data sat in Excel, QuickBooks, an ERP, a CRM or a stand-alone software. It was not connected. So owners were left blind to the trends, patterns and secrets just out of their reach. Often, time was being spent entering transferring data manually, and there was not a single source to access all information to get a full scope of the business.
We specialize in the construction, healthcare, and manufacturing (product manufacturers, machine shops, etc…). The greatest value is uncovered by those who already use QuickBooks, Excel, and industry-specific software.
THE FOUNDER
Brian is very friendly but avoids the limelight. If you really want to know more about him, please look through www.ConnectBrian.com. If you talk about racing jet skis on the ocean or endurance sports, he's all in.
THE SERVICES
We serve as virtual data officers to:
Help owners retrieve then compile existing data within their company.
Help massage then interpret the data for maximum usefulness.
Train staff.
Create processes that automate the data flow.
We do the work. Nothing is outsourced. Your information is handled in house, on American soil. We use video conference and screen sharing technology to interact with you and your staff.
Projects can be extensive like creating an ERP to create tight feedback loops between PlanGrid quoting and actual costing with job-to-job comparisons. Or as simple as teaching an employee how to use pivot tables in Excel. Each project is customized for what an owner wants to know and/or have automated.
We can be retained as a 'virtual data officer'. If you do not have an employee functional with data flow and reporting, we can provide this for a monthly retainer. This fits the need for part-time access to data architect without having to try to hire one away from Google or Facebook.
We serve clients from Alaska to Florida but not anti-business states like California, New Jersey or Vermont.
"While the construction industry still lags in digitizing its processes, there are clearly areas of improvement."
6424 E Greenway Pkwy #100, Scottsdale, AZ 85254
Brian [at] FinalMileAnalytics.com